Meiya Sidney (she/her) is a painter, book artist, and storyteller. Sidney studies at UCSB as a Book Arts major and Chinese minor and is gallery assistant at Maune Contemporary. Inspired by Buddhist teachings and mindfulness practice, her current work weaves visuals and bilingual text to express the intimacy of relationships between people and with the Earth. Through the lens of her lived experience of hybridity, being Taiwanese-American, she cultivates a practice of art-making that provokes deep looking and emanates a peaceful, loving presence. 
Nono Qiu (he/his) is a graphic design/digital illustration focused art major at UCSB. Though originally of a fine arts background, Nono has digitized his aesthetics through softwares such as Adobe Photoshop and Procreate. His style is an amalgamation of grunge, monochrome, and vintage with a special focus on playing with different visual textures. He is also in the process of becoming a computer programming artist, using code, AI, and 3D models to materialize his visions. Aside from his personal graphic design and multimedia art practices, Nono is currently an intern for an international VC firm, being mainly in charge of designing visuals for a variety of purposes including company events and business development brochures/presentations.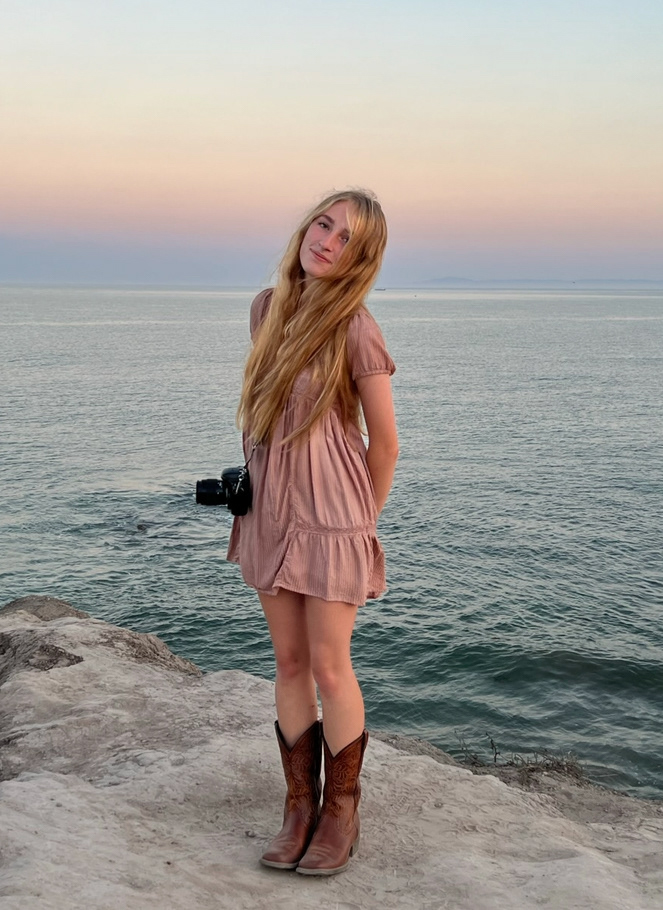 Originally from Texas, Avery Morgan (she/her) moved to California to study Environmental Studies at UCSB. She enjoys film photography, sculpture, and embroidery. Currently working as a field researcher for Project ECOTONE along the Gaviota Coast and a volunteer Snowy Plover Docent at Sands Beach, Avery hopes to further focus on wildlife conservation in coastal ecosystems. 
Kaitlyn Campbell (she/her) is a UCSB Art Major with a passion for storytelling through illustration and painting. She works at the Academy for Performing Arts in Huntington Beach sharing her passion for art with Technical Theatre students through Scenic Design and Scenic Artistry. Outside of school, you can find her fostering neonatal kittens, crafting, and creating more art. 
@frecklemonsterdesign


Izlin Weinberg is a sculpture major and marketing minor at UCSB. Originally from Vermont, Izlin comes from a family of welders where she acquired technical skills that she uses to create large-scale steel sculptures. Her practice is interdisciplinary, combining research, art-making, and writing.  She is currently cultivating a series of works on human decay that examines environments in relation to the state of the physical body.
Ezequiel Sanchez (they//them) has a background in color theory, drawing, painting, and printmaking and is a student at the Art Department in the College of Letters and Science at UCSB. They enjoy focusing on interdisciplinary topics relating to identity, culture, and storytelling as well as expression of the self in relation to community. In their free time you can expect to find Ezequiel at the beach or in the kitchen cooking and baking.