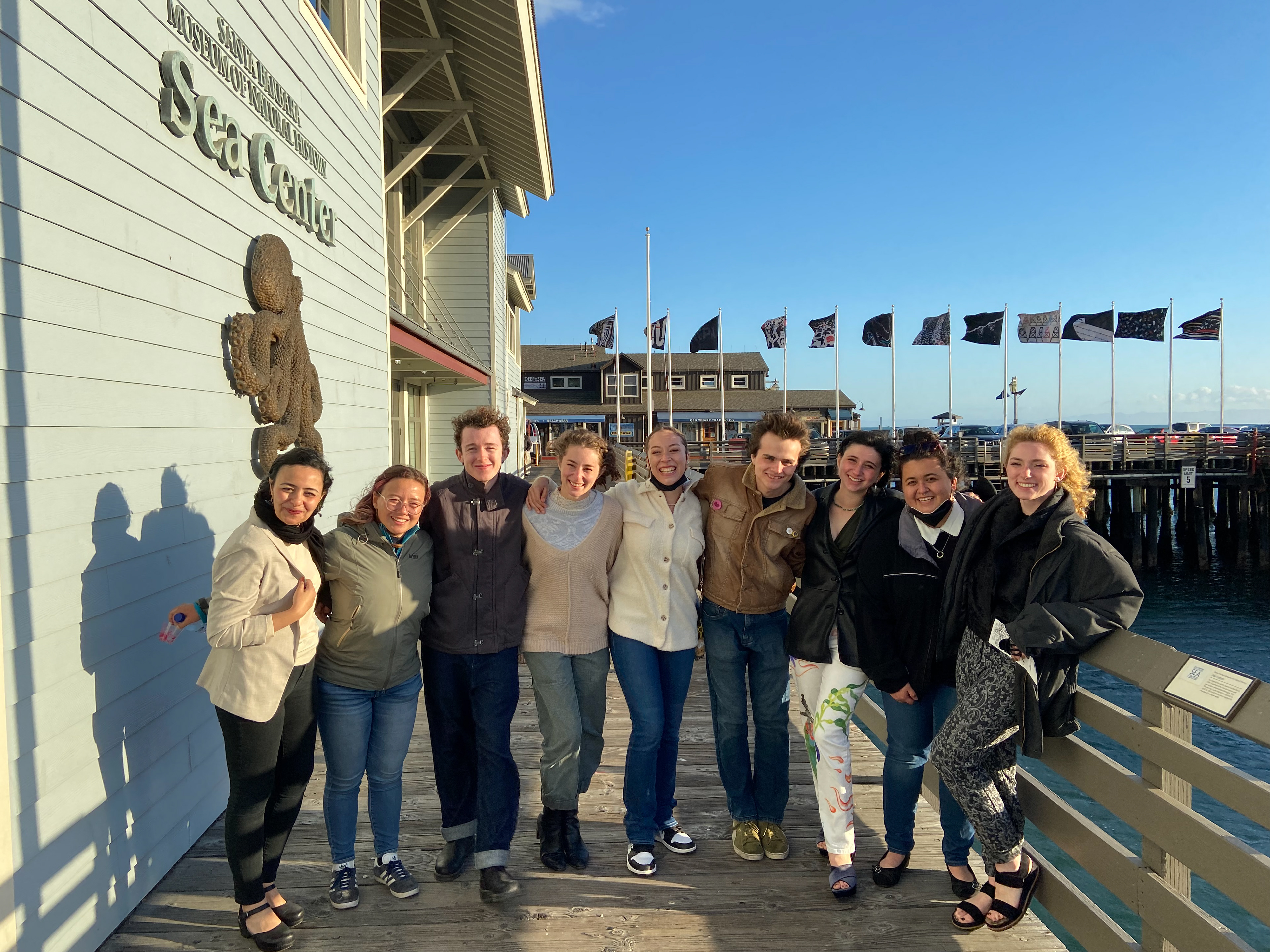 Social Print Lab
in front of the Sea Center and our flags! [not pictured: Kapri, Martin, Masha, Sydnie, Hugh, Lily] 
All art work and exhibition planning for
Seeping Into History: Oil Touches Everything
has been produced by UCSB students studying across Art, Biology, Environmental Studies, and Writing and Literature majors.
anahÍ Garcia
Anahi (she/her) is a third year UCSB art major passionate about social networking and using art as a method of expression and communication.
isabella millet
Isabella Millet studies art and public policy at UCSB, and hopes to work in the field of food justice and disaster response policy. She is a 2022 fellow with the UC Global Food Initiative and works at the campus daycare. Both of these experiences shape her artistic practice, which explores themes of parenthood, climate-change, and community.

owen jenkins
Owen is a third year CCS Art student, currently making paintings on paper. He is also passionate about the environment; he hopes that more and more people can realize the staggering scale of the climate crisis, while remaining radically hopeful.

zoË dinardo
Zoë is a second year CCS Art major and Linguistics minor. She is a painting emphasis, but also enjoys printmaking, photography, papercut art, and digital media.

marina stoilova
Marina (she/her) is a CCS biology major and philosophy minor at UCSB. She works as an undergraduate researcher in the Oakley Lab and as the events coordinator for the UCSB Scuba and free-diving club. Her passion resides in the intersection between biological research, science communication, and art.

sarah willes
Originally from San Diego, Sarah moved to Santa Barbara to learn book arts at the College of Creative Studies at UCSB. Over quarantine, she switched her primary practice to ceramics and has been focusing on sculpture. She is currently a senior and has dreams of adopting a corgi named Frankie upon graduation.

finley mullen
Finley Mullen (b. 2001 Los Angeles) is a poet, printmaker, and book artist. He is motivated by narrative - a desire to document, create, and disseminate stories: both personal and research-informed. His work discusses the Irish culture of his family and the American culture in which he has grown up.
Madeleine galas
Maddy is an interdisciplinary artist studying book arts and art history at UCSB, and currently works at the Museum of Sensory and Movement Experience. She is passionate about contemporary art, climate justice, and caring for her plants. 
MArtin ma
Martin (Weiyi) Ma is a UCSB undergraduate who currently resides in Santa Barbara. His works incorporate installations, sculptures, painting and prints. He is also a freelance interior architectural designer.

hugh cook
Hugh likes to write poetry and read sci-fi, and spends his free time doing yoga, surfing, and having fun. He'd probably like to pet your dog.
kapri ellis
Kapri is a fourth year Studio Art major who is passionate about art, the ocean, and community. Outside of school, you can find her surfing, laying in the beach, or at a coffee shop.

lily habas
Lily is a first year CCS Book Arts major from Los Angeles with a passion for design, chai lattes, and making things look pretty. She previously worked at Blum & Poe Gallery and is now learning to mend books at the library.
elise cypher
Elise works in the Briggs lab, a disease ecology lab at UCSB. She's also the sponsor liaison for the UCSB cycling team. Elise usually draws and paints plants, animals, and landscapes. She likes to spend her free time biking or running around the Santa Barbara area.
ACKNOWLEDGEMENTS
We thank our professor Iman Djouini, advisory panelists Dr. Claudia Tyler, Dr. Audrey Lopez, and Eva Wylie. We are especially thankful to Eduardo Corral, a.k.a. TLaloC for the mentorship he contributed.